We have recently embarked on a new exciting adventure into the realm of digital film production. Many of you have followed along with us as we created and shared our first completed web series, Naturally Ours! For our first season of Naturally Ours, we chose Salt Spring Island, British Columbia to highlight the  Canadian Parks and the people they inspired. We worked together with Kelly Conlin of Nice Lady Productions to bring you gorgeous 4K footage with the goal of spreading beauty, love, peace, inspiration and hope around the world. You can watch the season in its entirety here on Stareable or the broadcast half-hour documentary version of Naturally Ours: Salt Spring Island on Fearless.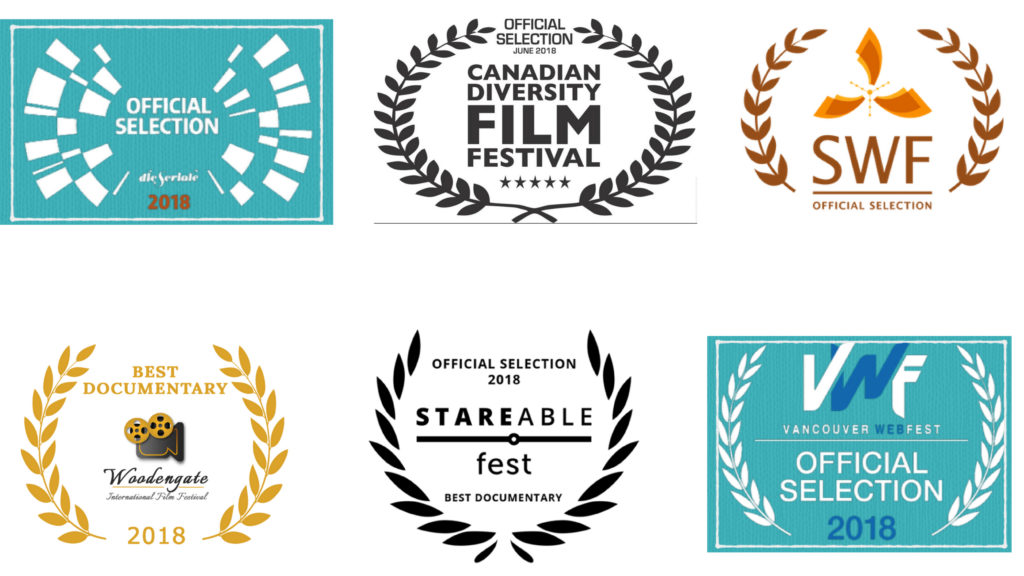 After the online success of our Season 1 release of Naturally Ours, we decided to test the waters at numerous digital film festivals. Our goal with this series is to continue on, featuring the beautiful parks and natural spaces we have all around the world and the people (and yes, other non-human creatures too) that live and work amongst them. Expanding our reach to film festivals has shown that storytelling which showcases the good and beauty that exists in our world is very well received! Here are the film festival selections and awards for Season 1 of Naturally Ours to date.
Woodengate International Film Festival
The Woodengate International Film Festival is based in Maramures County, Romania. Century old traditions are still a part of daily life here. In celebration of emerging talent in online storytelling in film, they feature live screenings of official selections chosen from submissions they receive from around the world. We are beyond excited to say that we were selected for their Documentary category and won the Best Documentary award!
Vancouver Web Fest
The Vancouver Web Fest is local to us. We were excited to bring the beauty of a park so close to all the residents here to the big screen! This festival is part conference, part festival and part showcase. Attendees enjoy workshops, keynote speakers, screenings and more. Being a web fest, they honour creators in digital storytelling. We are pleased to share that we were officially selected as nominees for Best Documentary Web Series, Best Pilot, Best Cinematography, and Best of BC! Best of all though was the reaction of fellow Vancouver Web Fest nominee, Lungelo Mdlalose. After seeing the screening of Episode 1 of Season 1 of Naturally Ours at the festival, Lungelo decided to spend his one free day in British Columbia, making the trip through the Salish Sea to experience the parks and people of Salt Spring Island first hand.  That Lungelo was inspired to take this action is high praise indeed from the gentleman that won Best International Series at Vancouver Web Fest for his series, Thesha. Congratulations Lungelo!
die Seriale Germany
die Seriale takes place in Giessen Germany, and is the oldest festival in all of Germany to celebrate both emerging and accomplished independent artists of digital and web series production. Lectures, workshops and panel discussions are included. It only became an international festival in 2017, so we are quite honoured to have been selected by them as official nominees for Best Series and Best Documentary. This festival takes place soon, from June 8th through the 10th. Episode 4 of Season 1 of Naturally Ours will have it's World Premiere on the big screen at the festival!
Sicily Web Fest
The Sicily Web Fest is part of the prestigious Scirocco Wine Fest in Gibellina, Sicily. The web fest prides itself on being a real cultural event with the goal of promoting cinematographic art through the web. It is a major international event. The aim of the wine fest is also to build bridges between cultures, making this a perfect environment to bring Naturally Ours into. It will be screening there between June 29th-30th as official selections in both the Web Series and Pilot categories!
Canadian Diversity Film Festival
It means a tremendous amount to us to be recognized for the Canadian Diversity Film Festival, as its platform is based on diversity being Canada's lifeblood. It is for global filmmakers living in Canada with the goal of bringing diverse communities together through story and shared experiences. For us, that means being able to highlight Canada's first nations, and the islanders of Salt Spring Island who fought to save the land and artistic healing lifestyle. The festival will be taking place at the Textile Museum of Canada in Toronto, Ont. June 29th-30th. The full version of Naturally Ours is an official selection in the Documentary category!
Stareable Fest
Naturally ours will be making its American film festival debut this summer at Stareable Fest in Tribeca, New York City! Stareable itself is an innovative site for web creators to showcase their passion projects. In keeping with their spirit of supporting independent filmmakers, they are hosting a two day celebration that is a mix of judging nominated films, industry marketplace and creator convention.  We are pleased to say that Naturally Ours is an official selection for Best Documentary! The festival will be taking place July 20th-22nd.
We are greatly looking forward to continuing on our journey to see where we end up next!